About Just Jags - Auckland Chauffeur Services
Luxury Car Chauffeur Service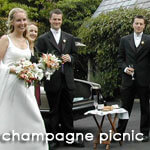 At Just Jags Auckland, we are here to make your special day that extra bit memorable with a classic wedding car. We have a wealth of experience so when you need reliable, dedicated wedding car hire complete with chauffeurs in Auckland you can count on us. Our chauffeur business is a small boutique firm committed to customer satisfaction, offering chauffeur-driven modern classic Jaguars, allowing you to arrive at your special event comfortably in an elegant but affordable manner. Uniqueness in our size means that we go the extra distance to make your day stress free and enjoyable, we even offer a complimentary champagne picnic to accompany the photo session.
Our jagaur chauffeured vehicles are well-serviced and maintained to ensure optimal performance and complete safety. We put the same effort into our private chauffeurs in Auckland, employing courteous and proficient drivers who are just as passionate as you are about having your day run smoothly and on time.
We understand that sometimes the schedule changes on the day or a particular stop may take longer than anticipated so unlike other firms we won't charge you extra time after 4 hours. We allow you up to 5 hours to make sure you don't have to rush to fit things in on your special day.
Just Jags was established in 2002 by Don Newton, and we have worked hard to maintain the reputation we have developed for the highest standards of chauffeur driven car hire service. We make it our policy to explain the terms and conditions of hire to every customer. The specialist team at Just Jags chauffeur business in Auckland is also highly dedicated to presentation and punctuality. We understand how important it is for you to be in good hands on your big day, so we want to ease your mind with our special occassions and wedding car hire chauffeur driven services.
Very best wishes from
Don Newton and the team
0800 00 55 44