Testimonials
The following are some comments from our clients.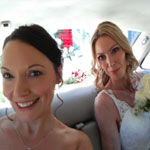 Natalie and Chris
: Thank you so much for your professional service on our wedding day. I have in the past been walking in the city and seen your wedding cars drive past and I always looked and went wow I want to be a bride in that one day. And my day did come. I felt amazing in sitting in the back driving along in the bridal car people looking, kids pointing, some even taking photos. I felt like the queen. Your warm welcome and your friendliness made me feel relaxed and calmed my nerves. And also we, both Chris and myself, appreciated your patience when we asked if we could leave in 15 mins. Thank you Don so much for part in our special day of our lives. And I will be highly recommending your cars to everyone.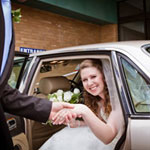 Rachel and Scott: Using Justjags was such an ease on our wedding day. They were very accommodating and kept in contact with us prior to the big day. On the day they arrived half an hour earlier and cared for our entire bridal party. They were kind and caring and lovely people to be around. The cars looked beautiful and helped make our day even more special. Thank you so much Don and Jo!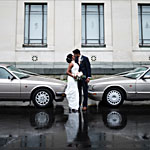 Rufus and Evelyn: Thank you so much for your service on the day despite the rain we really appreciate it. Here is the wedding photo that we managed to take!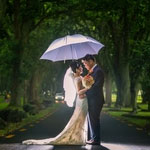 Karen and Eddy: We would just like to say thanks for being part of our wedding day. The Jag was gorgeous and we enjoyed our rides. We particularly appreciated your assistance during our photo shoot at Cornwall Park during the downpour! Your umbrella made an excellent prop in the photos too, attached are some of our favourite shots from the day. We wish Just Jags continued success.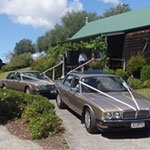 Graham Alcock (Father of the Bride): Many thanks to you and your colleagues for your efforts that contributed to my daughter's great day, especially taking the scenic route to the cottages. The cars (and drivers) looked splendid and you and your staff were friendly and professional.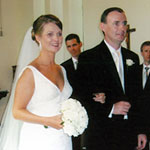 Nicola and Mark McLaughlin: Thank you so very much for making our wedding day so very special; We were thrilled with the two Jaguars and your service; The nibbles and champagne at Bastion Point were very much appreciated and thank you also for bearing with us when we ran over time.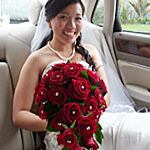 Therese and Adrian Bisquera: You were very flexible with the time in picking us up - even when I was late from our Sky Tower photo shoot. We enjoyed having the wine, my juice and the feed that was part of the package. This is a fantastic addition - either during the photo shoot or as happened in our case, we ate it the days after and the family had a share of it too.
I can still recall your gentle care of putting a piece of cloth on the tyres to avoid my wedding dress getting stains on that rainy November 17th 2012. That was unforgettable because it showed that you cared. For the price of the car and your service, I can't speak highly enough of you. I remember my and Adrian's reaction on the first day we viewed the car and on our wedding day itself the car was WONDERFUL - very clean, well maintained, leather seats, rich gold in colour, beautiful intricate details on the interior, complete with decorations (white car sash, which could easily have been an extra expense) and red silk roses (which could easily have been mistaken as being real) in the back interior of the car which made for good background photos and the car smelled really lovely. I think I felt catered for for all our needs. Don even played love songs on our way to the reception while Adrian and I were enjoying our Mr Whippy ice cream - yum!
Even both my parents were very pleased with the car and we were all very proud that we got to ride a Jaguar for the first time in our lives! Adrian and I only viewed one car company for our wedding and that was Just Jags, and we never looked back because we believe we chose the best one. Just Jags was really great value for money, (in fact we weren't charged an exorbitant amount for it all) but we strongly believe that for everyone who is looking for their wedding transport, DO get in touch with Just Jags - they are very easy to deal with, remember the details in one conversation, were very flexible with going over our time booking by half an hour without extra charge (thank you), confirm everything a few days prior to the day, the car was beautiful and well polished, plus our smiling faced chauffeur provided us with impeccable service, he was on time, very caring with the minor details as mentioned above and we think it was well worth it to be part of our memorable wedding day experience. Thanks very much Don for all your assistance in making our wedding day transport hassle-free.