Our Services
We're More Than Wedding Car Chauffeurs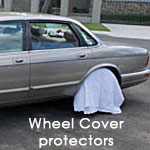 Weddings cars are about more than getting you from A to B on your special day, they are an integral part of your day. Our chauffeurs have a wealth of experience in wedding transportation so they will ensure your every requirement is met, no matter how small or trivial.
From matching the colour of our car flowers to the colour of the bridesmaids' dresses, to keeping large umbrella's at the ready, we have it covered. We cover the wheels every time the bride steps out of the Jaguar to protect the dress from damage or dirt. We take care of all the bags - whether it be the bridal party bags or the mother of the bride's bag. We take care of the small details. And if you have something you feel is out of the ordinary, we would be delighted to assist. We've had a few unusual and spontaneous requests in our time, all handled with the grace and poise you would expect from a chauffeur.
Here's how we've made a difference to that very important day:
More than one forgotten speech has been quickly and discreetly retrieved by our drivers, saving embarrassment and relieving the stress for all concerned.
Handbags, flowers and overnight bags have been secured for the bridal party. From suitcases for the honeymoon to a day bag for the bride which needs to be available at a moments notice we've covered all manner of extras.
We've served the bridal party's own refreshments with our glassware and picnic table during the couple's photo session so they could relax and focus on the getting stunning photographs of their day.
We're a dab hand at photography and are happy to provide additional photos throughout our time with you.
Need a mobile phone to keep in contact with parents or guests? Consider it done!

Competitive Rates
Your special day can cost a small fortune before you know it, so Just Jags aims to offer maximum service at a reasonable cost. Once you contact us with the details of your wedding we will arrange a quote for your Jaguar hire, the price you're quoted is the price you pay at Just Jags, So you know exactly how much to set aside in advance and you won't have any nasty surprises down the track.
View Our Wedding Car Hire Packages
We service almost all of the Auckland area, but a fuel surcharge will apply beyond the district's outer limits. Once again we will let you know about the added cost up front so you know exactly what you're committing to.
The team at Just Jags take absolute pride in the quality of our service and the value we include in our pricing, why not call us today to discuss specifics?
Don't Stress, We've Got It!
If something doesn't go to plan don't stress, we're prepared for anything with the following contingencies:
First Aid Kits - for any minor accidents
Sewing Kits - for that wayward button or dropped hem
Scarves and Coats - for that bare shoulder at that chilly windswept location that the photographer insists upon
Extra Umbrellas - just in case
Rubber backed rugs - another photo session addition that can be placed on the ground
Tissues - need we say more?
A White Wheel Cover - for the moment when the bride alights from the vehicle and her long white dress is in danger of brushing against the recently blackened rear wheel tyre

We've seen it all, we know what you might need and have it prepared so that the show can go on despite any hiccups along the way.